System SB7-C-PPK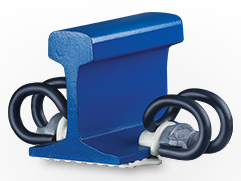 The system was designed for construction and renovation companies operating in the railway sector, and is offered by the reputable Polish company PEZ CONNECTOR which manufactures railway fasteners.
Characteristics and advantages of the SB7-C-PPK type attachment system.
PPK cushion was made of a high-quality material, which provides it with optimally better properties:
greater fatigue resistance (greater durability of the cushion),
greater creep resistance (the cushion's ability to carry greater loads),
lesser stiffness volatility within the range of operating temperatures,
exceptional damping properties.

The high technological level of our manufacture guarantees top quality of tension clamp design.

The material used for the production ensures optimal pull-up. A modern specificity of design allows quick and seamless fitting (fastening, unfastening).
Our system can be fitted in configuration with all the anchors built over the railway lines of PKP PLK S.A. Compared to other systems, the product shows a slight increase in stiffness, being the result of the influence of loads, ultimately creating a minor decrease in longitudinal resistance and pull-up capability.